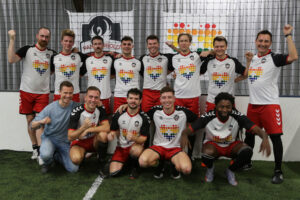 Somehow we have been used to be dominated by PAN Fodbold from Copenhagen who won our tournament in the last two editions. But this time their triumph has been even more special: Both of their teams faced each other in the final. PAN FC won 6:2 against PAN United. The first team of the Hot Shots Cologne secured the 3rd place.
Thanks to everyone for coming. We're happy to have hosted a tournament with fair matches, no serious injuries and a cheerful party. Hope to see you again next year on the first saturday in November – which is the 2nd November 2024.
PAN FC
PAN United
Hot Shots Cologne 1
Ballboys Gay
GFC Friends Prague
Hot Shots Cologne 2
mvd-Quadratekicker
Rosa Teufel
Leinebagger Hannover
Ballboys Schwul
Vorspiel Berlin
Soho FC
Wanky Boiz and the married woman
Dein Browser kann das Turnierwidget leider nicht darstellen. Hier geht es zum Turnier.